Richard Mille History
Richard Mille is a Swiss luxury watch company founded in 2001 by Dominique Guenat and Richard Mille based in Les Breuleux Switzerland. The first Richard Mille timepiece is introduced, the RM 001 Tourbillon in an initial series of 17 watches. This is followed by the tourbillion RM 002, an evolution of the RM 001, enhanced with two features making their world debut. A movement baseplate in titanium, and a function indicator with winding, neutral and hand-setting positions. Richard Mille Lotus f1.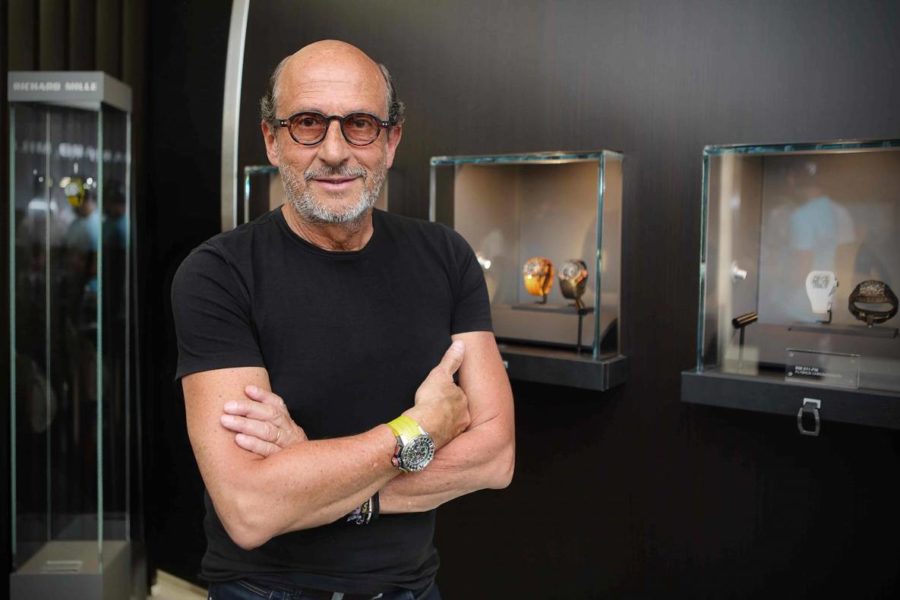 Richard Mille Background
After studying marketing in Besancon, Richard Mille born 13 February 1951 in Draguignan, France. Richard Mille started work at Finhor, a local watchmaking company in 1974. The company was bought by matra in 1981 and Richard Mille rose to manage Matra's watchmaking business, which then included the brands Yema and Cupillard Rieme. Matra's watchmaking activities were sold to Seiko, who Mille left in 1992 to start a watchmaking business for jewelry firm Mauboussin.
Richard Mille Company
According to their Linkedin Profile they have 206 employees. The Richard Mille Group comprises the following companies: Horometrie SA (Distribution), Guenat SA Montres Valgine (conception and assembly), ProArt (components), VMDH (decoration) and Cercle d'Art (publishing). Paid up capital is 5m CHF and have 6 members on their Swiss corporate structure Horometrie SA.
Richard Mille Technologies
A large portion of Richard Mille's inspiration comes from racing cars and the study of shock resistance, and give the watches very high shock resistance. The concepts and materials inspired by Formula 1, which provided the basis for the first Richard Mille watch RM 001 are one of the cornerstones of the brand's philosophy. Richard Mille teamed up with North Thin Ply Technology, the world leader in the production of lightweight pre impregnated materials used in sailing and Formula 1, to produce the RM 27-02 Rafael Nadal in Carbon NTPT and Quartz TPT as well as the RM 11-03 McLaren. Best be sure to check out the magical Richard Mille Lotus F1 at the Sotheby's.
Airbus Corporate Jets and Richard Mille have launched a new travel watch, inspired by and adapted to exclusive journeys on an Airbus corporate jet. RM 62-01 Tourbillon Vibrating Alarm ACJ, the new watch's innovative features include a discreet alarm that alerts the wearer through vibrations that only they can feel. The watch is a true creation of the best of both ACJ and Richard Mille. It encapsulates the pioneering, proven and industry leading expertise from two companies known for delivering the highest standards and most exclusive customer experiences in their industries. Bringing together the worlds of aviation and horology, the watch embodies the superlative engineering and shared values of both, and will be limited edition of just 30 pieces.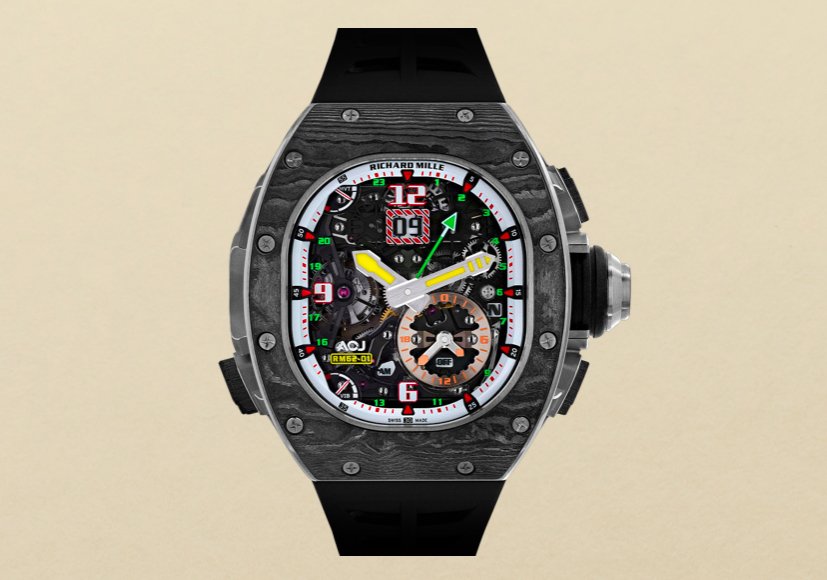 Akani Simbine
Akani Simbine born on the 21st of September 1993 is a South African sprinter specializing in the 100 meters event. He was fifth at the 2016 Summer Olympics in the men's 100 meters and was the 100 meters African Record holder with a time of 9.84 seconds set in July 2021 until broken by Ferdinand Omurwa in September 2021. Thanks to Simbine whom openly received and wore the RM 67-02 has shaped the way athletes turn to Richard Mille for their indestructible nature.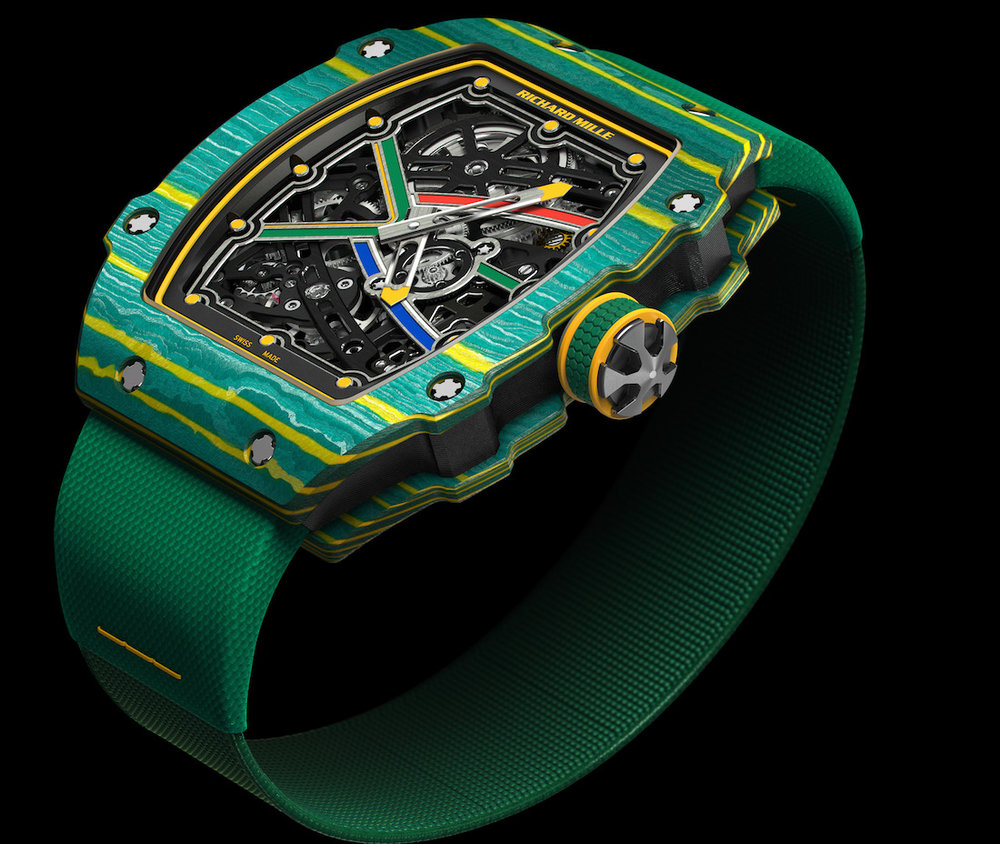 Alain Prost
Alain Marie Pascal Prost born on the 24th of February 1955 is a French retired racing driver and Formula One team owner. A four time Formula One Drivers Champion from 1987 until 2001 he held the record for most Grand Prix victories until Michael Schumacher surpassed Prost's total of 51 victories at the 2001 Belgian Grand Prix. In 1999, Prost received the World Sports Award of the Century in the motor sport category. From 2003 to 2012 he competed in the Andros Trophy, which is an ice racing championship, taking 38 race victories and winning the championship 3 times.
Alain Prost has been a partner of Richard Mille since 2017 and the collaboration between the brand and the Champion is founded on a solid loyalty. In 2013 Alain Prost and Jean Paul Driot joined forces to create the Renault e.dams Team in Formula E with the support of the brand. They would win the Teams' Championship three times in a row. In 2017, the brand released the RM 70-01 Tourbillon, developed in collaboration with the French champion and inspired by his secret passion, cycling. He has been riding seriously for nearly 25 years and always striving for precision and technique as the brand does with their own watches. Fascinating partnership indeed. The RM 70-01 unveiled at a whopping $815,500.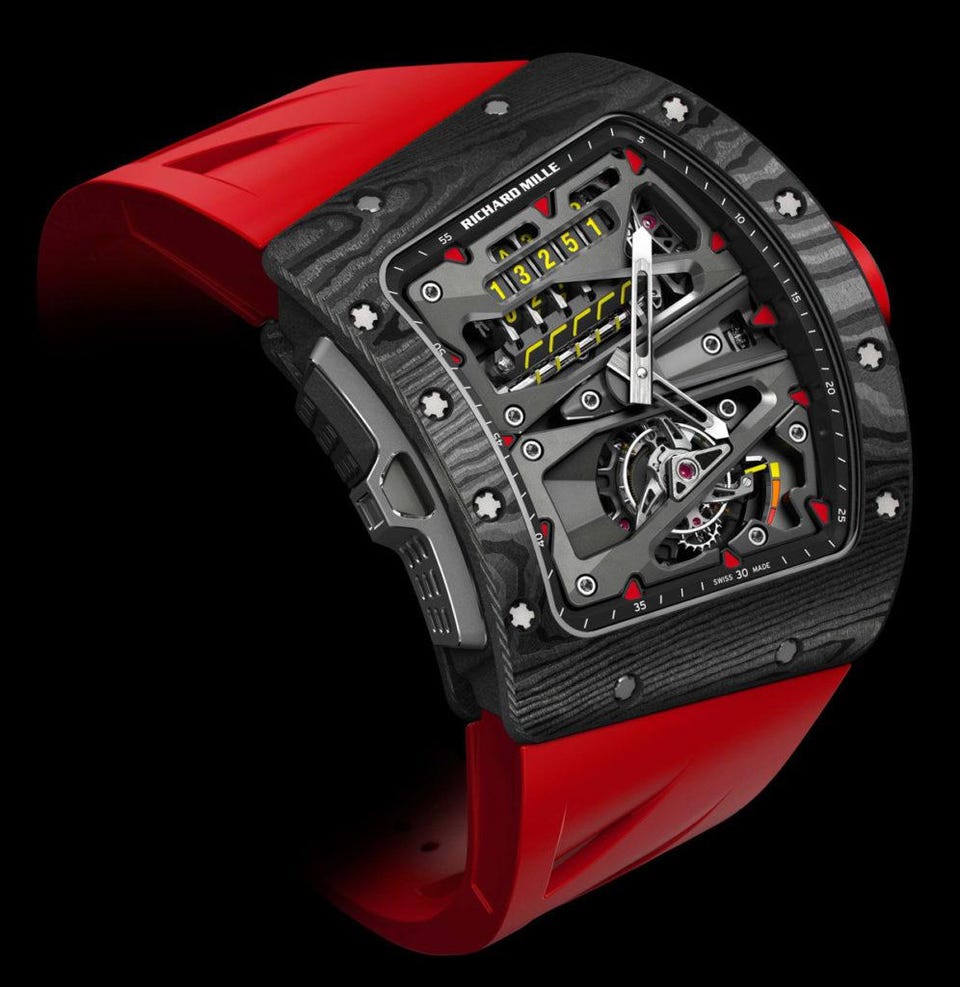 Alexis Pinturault
Alexis Pinturault born on the 20th of March 1991 is a French World Cup Alpine ski racer and Olympic medalist. With 34 World Cup victories, Pinturault is the most successful French skier in World Cup history. He represented France at five World Championships and two Winter Olympics, with four bronze medals in the giant slalom. He is the current World Cup champion after winning the 2020-21 season. Pinturault was world champion in combined in 2019, world champion in the team event in 2017, and a two time world junior champion in giant Slalom in 2009 and 2011. Alexis was born in Moutiers, Savoie and grew up in Annecy. His mother, Hege Wiig Pinturault is from Bergen Norway and spent many of his childhood summers in Norway at Hestnesøy near Grimstad and has dual citizenship.
Alexis Pinturault has been a Richard Mille partner since 2014 and helping the brand to test watches he is not afraid to bash against the gates as he hurtles down the mountain at speeds exceeding 100km/h. It was known that Pinturault was wearing the RM 035 Rafael Nadal watch first before the partnership was established. Pinturault broke around five or six watches when testing Richard Mille watches but mostly related to the straps that break. Athletes are the best testers as they are always evolving in complicated and demanding disciplines.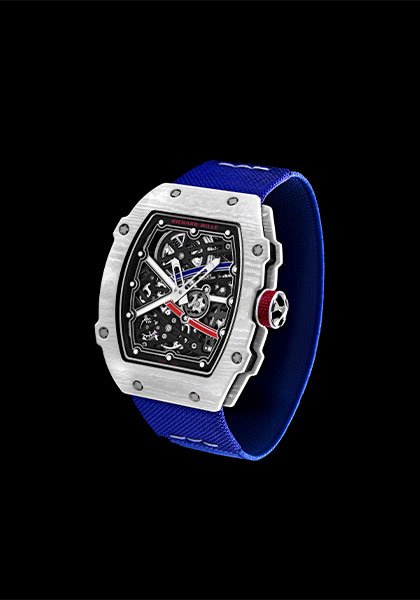 Arnaud Jerald
Arnaud Jerald born February 27th in 1996 is a French freediver. He discovered freediving at the age of 7 with his father who practiced spearfishing. At 16 years old he participated to his first freediving course in Marseille. Arnaud started competing in 2017 and won the title of French National Champion in bi-fins with a dive to -83m, which is also his first national record. He also won a bronze medal at European Championships with -92m in bi-fins a new national record. Quickly seen as a rising star of freediving, he reached for the first time the mythic depth of -100m on July 25th 2017 in Villefranche-sur-mer during a training. According to his page he offers private coaching to those interested in freediving.
Arnaud Jerald impressed Amanda Mille, Richard Mille's daughter whose the brand and partnerships director the company. Amanda Mille said many athletes approach the brand but highlights Jerald really knew everything about the brand and wanted to wear everything so there was a natural fit for partnership. The RM 032 Les Voiles de St Barth on his wrist is a match made in heaven. Now he is part of the club of Richard Mille sportsmen that includes everyone from golfer Bubba Watson, tennis champion Rafael Nadal and racecar driver Sebastien Loeb. The piece is sitting at $245,000 and limited to 120 pieces. Richard Mille pieces are so in demand that they are predominantly sold before they ever hit a boutique.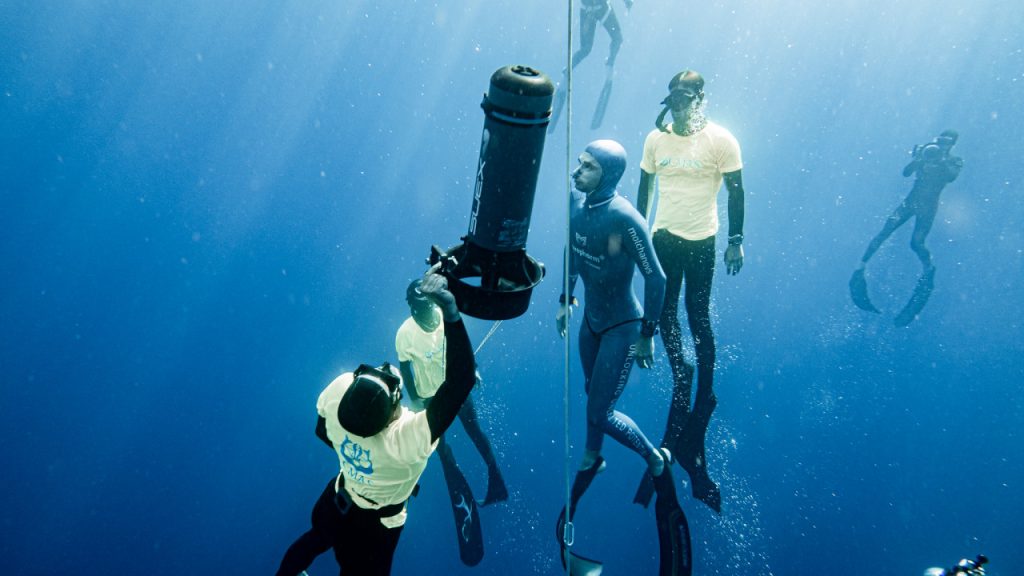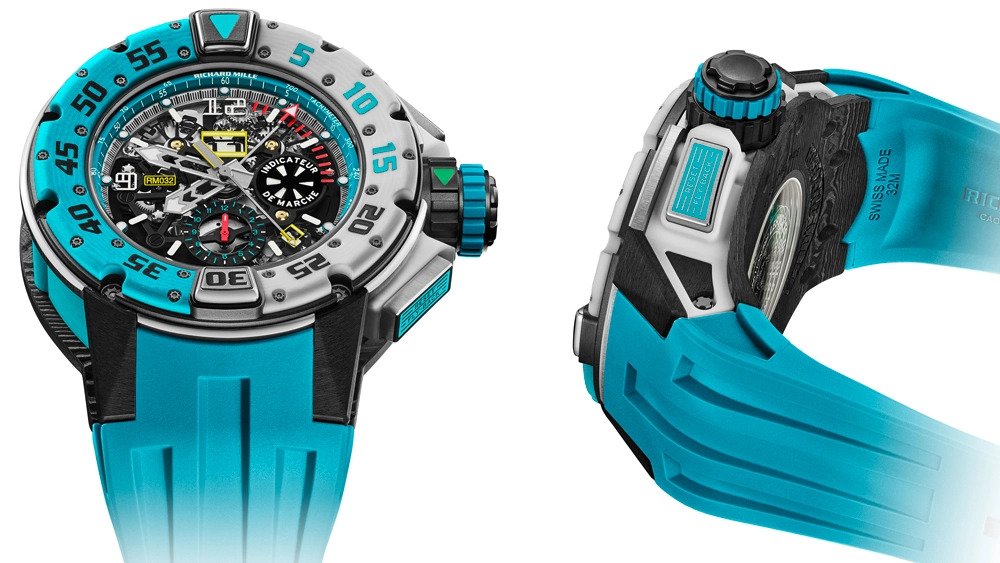 Art Grand Prix
Art Grand Prix is a French motor racing team that competes in formula single seaters in Europe. It came about in 2005 as a collaborative project involving Frederic Vasseur, the principal of ASM Formulae 3 and Nicolas Todt. Founded in the winter of 2004/2005 the ART Grand Prix team was built on the solid foundations of the ASM F3 team, the two structures being under the same roof and working with the same personnel. After their strong performances and records in French F3 and the F3 Euro Series, the team, based in the French Department of the Yonne, decided to continue its rise in the world of International Motorsports by creating a structure dedicated to the GP2 Championship, a series which replaced F3000 in 2005 as the curtain rise on the European F1 Grand Prix season. Richard Mille came on board early on, supporting the Art Grand Prix since 2009.
Aurora Straus
Aurora Straus is a 23 year old professional racecar driver in the USA, a student and a musician. She currently competes in the IMSA Continental Tire Sportscar Challenge and previously raced in the Battery Tender Mazda MX-5 Cup. She lives in Cold Spring New York and is a Harvard freshman. Straus is the daughter of Molly McCoy and Ari Straus, the CEO of the Monticello Motor Club.
Aurora has been a partner of the Richard Mille brand since 2018 and wears the RM 07-01 in White Ceramic with a Jasper and Diamond set dial. As the founder of a non-profit association "Girls with Drive" she helps foster awareness and excitement about male-dominated career paths among young girls. The more she can invest her time, money and energy into creating programs that will help young women want to get involved with those career paths, the better.