Where is Crans Montana
Crans Montana is a municipality in the district of Sierre in Canton of Valais, Switzerland. On the 1st of January 2017 the former municipalities of Chermignon, Mollens, Montana and Randogne merged to form the new municipality of Crans Montana. We introduce how it came about, its history and exciting news of how it shaped itself to be a premier ski destination.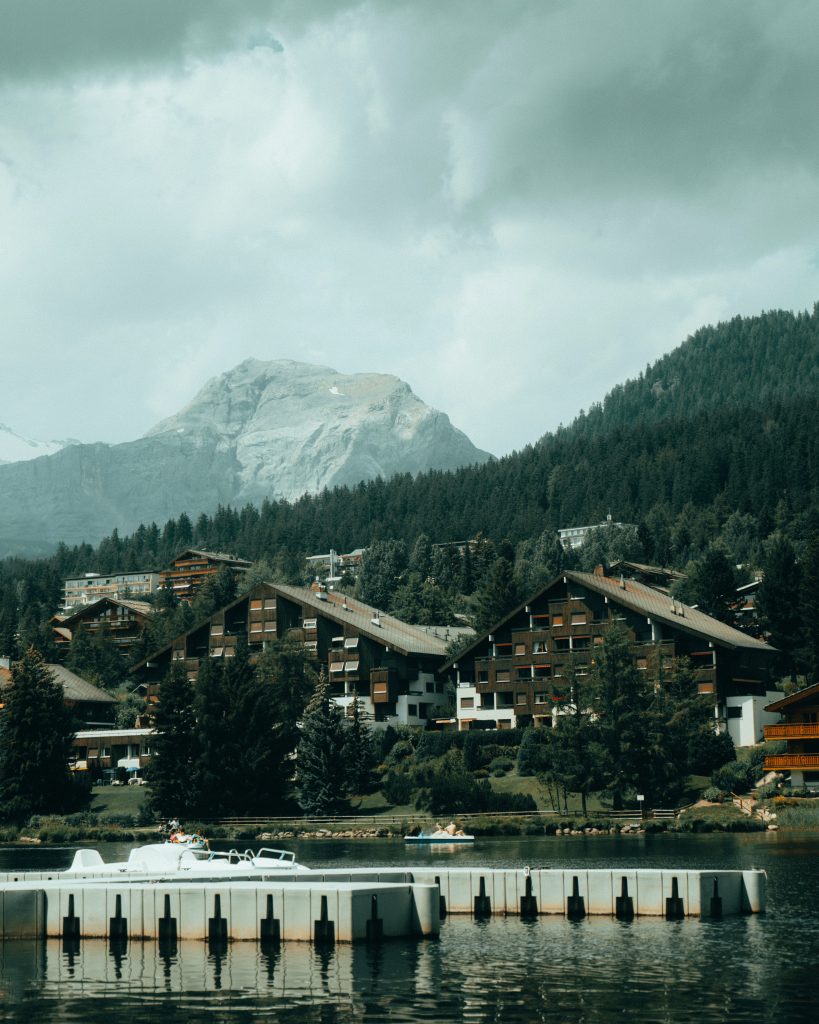 What is the history
Chermignon is first mentioned in 1228 as Chermenon and Chirminon. It became an independent municipality in 1905 when it separated from Lens.
Mollens is first mentioned about 1250 as Molaen. In 1286 it was mentioned as Moleing. The municipality was formerly known by its German name Molei, however that name no longer is used.
Montana is first mentioned in 1243 as Montana. In 1905 it separated from Lens to form an independent municipality.
Randogne is first mentioned in 1224 as Randonni.
What is there to do in Crans Montana
The ski resort is located in the heart of the Swiss Alps in the French speaking part of the canton of Valais. It is located on a plateau above Sierre at an elevation of about 1,500 m above sea level, allowing good view over the Valais Alps and Weisshorn in particular. The resort is a fusion of the two centers of Crans and Montana and belongs to 6 municipalities (chermignon, icogne, lens, mollens, montana and Randogne).
The skiing area of Crans Montana is composed of 87 miles of pistes, and includes the Plaine Morte Glacier. It is topped by the Pointe de la Plaine Morte at 2,927 meter.
Crans Montana is famous in alpine ski racing for the 1987 World Championships and is often on the World Cup schedule usually for women's speed events.
Crans Montana Wealthy Lifestyle Buyers for Investment
In Crans Montana News it has garnered attention from Switzerland wealthy lifestyle buyers for investment and re-invention. This has turned Crans Montana into a desirable year round mountain destination catering to wealth relocating families as well as international ski homeowners. Even though much of the spotlight retained is for other premier resorts such as Gstaad, Zermatt, Verbier and St Moritz.
Billionaire Radovan Vitek Revamps Crans Montana
In the last decade, the town has undergone infrastructure upgrades and attracted dozens of new residential developments. This investment has been spearheaded by Czech billionaire Radovan Vitek, a real estate developer who is also resident in the town. It has become one of the most foreigner-friendly ski resorts in Switzerland. Attracting a large share of the foreign ownership permits allocated to Valais by the Swiss Government. Since, Crans Montana is only two hours from Geneva, its location on a large south facing plateau above the Rhone Valley is a big sell.
The OMEGA European Masters is hosted every year. There are four golf courses, including an 18-hole Severiano Ballesteros and 9-hole Jack Nicklaus as well as a prestigious club with an indoor center open all year round.
We hope you enjoyed the history and development of Crans Montana as much as we have. We hope the continuation of Crans Montana continues to succeed for generations to come and compete with its competitor Cantons.