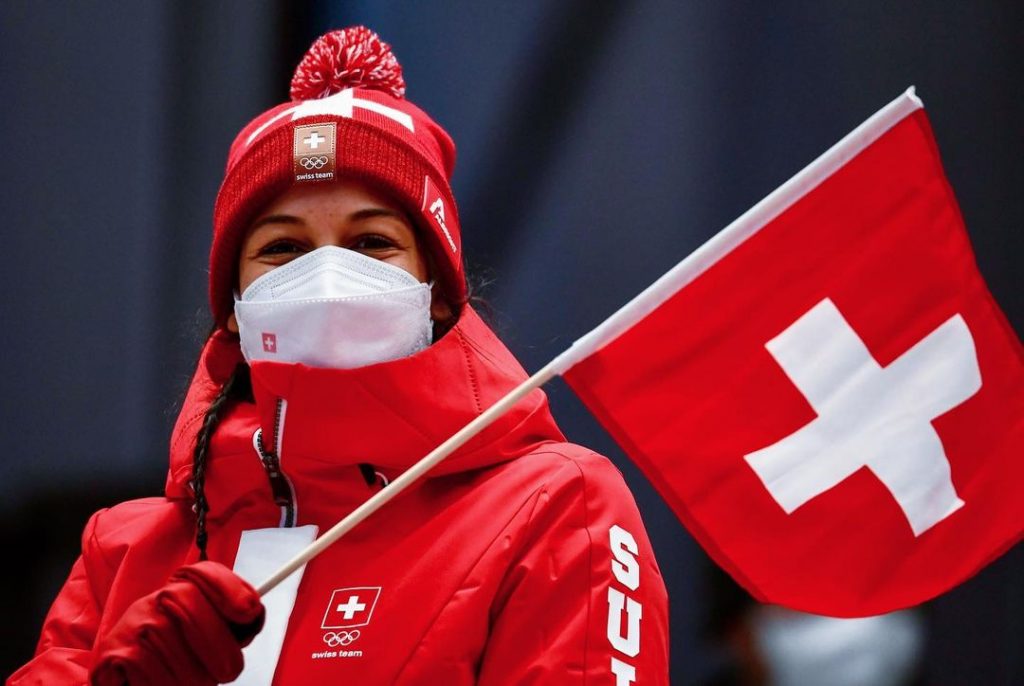 Melanie Hasler
Two years ago, Melanie Hasler was playing volleyball professionally and knew nothing about bobsleigh. Today, she is part of Switzerland bobsleigh team and youngest active bob pilot and the country's new hope for the female racing team. Meet Melanie Hasler, a 20-year-old with determination, big dreams and no fear!
Melanie stands at the top of the legendary St. Moritz-Celerina Olympia bob run. She is calm and focused. It is such an important day for her: she is competing at the annual Swiss Bobsleigh Championships. It is her second time participating. As the pilot she is in charge of bringing that gravity-powered, two-woman bobsleigh down the narrow, twisting ice track, reaching speeds of up to 135 kilometer per hour. Melanie knows that every fraction of a second counts. A good start is crucial. And finding the ideal pathway down the track, taking advantage of the centrifugal force that maintains the bob through the banked curves. Safely, but as fast as possible.
History
Of Dominican heritage, Hasler was born in Berikon, in the Swiss canton of Aargau, in May 1998, the youngest of four children.
Volleyball was her first love and by the time she was 13. Hasler was training seven times a week and competing in beach and indoor matches.
The teenager attended the United School of Sports in Zurich and was active in the National B League while a part of the Switzerland youth team.
However, her life took a different turn in 2017 when her volleyball coach recommended her to two-time Olympic champion and former Swiss national team coach Christoph Langen.
Langen is a former decathlete who switched to bobsleigh in the mid 1980s before going on to claim four medals – including two golds – across four Olympic Winter Games.
He was impressed by Hasler's speed and jumping ability although Hasler had little awareness of the sport.
A different world

It is not uncommon for bobsleighers to come from all walks of athletic life. Quite often when they are being recruited, they have no knowledge of bobsleighing. What matters is speed, strength, agility, and a willingness to race down a steep, winding chute. Melanie felt intrigued and wanted to find out more about bob racing. She went to see the professionals train in St. Moritz, at the only natural ice bob track in the world. At one of the test trainings she met the German bobsleigh legend and Switzerland's youth coach Christoph Langen. With several olympic medals 2022 under his belt, Langen's presence made Melanie slightly nervous, she remembers fondly. "His encouraging words, though, together with his contagious passion for this fast-paced sport made me want to try it out even more so," Melanie explains. 

The first time she tried it out and raced down the ice track as a brakeman was a very special moment in her life. It was the decisive moment in which she realized that "this was it". She wanted to give bob racing a go and leave her career as a volleyballer behind her. A decision that she never regretted as the last two years have been an incredibly exciting – and successful – journey. In these two years, she has not only made the transition from brakeman to pilot after competing less than a season, she also won the Swiss Junior Championships in 2018. Becoming a bobsleigh professional has opened a completely different world to her.
Hard work pays off

Success doesn't happen by accident. Melanie trains hard all year around. In summer the focus is on physical training sessions, in winter on sharpening the steering skills and improving the push at the start. Additionally, she and her team mates are responsible to keep the bob and the runners in shape, organise the logistics and manage the sponsorship agreements. A lot of hard work goes into being a professional pilot. Melanie does not mind working hard for it, she loves the challenge and the thrill that comes with bob racing.
Particularly the thrill: "Feeling the adrenaline pumping through my body is an incredible feeling and I hope this will always remain that way. It teaches me to have respect for the extreme forces that play a role when steering the bobsleigh", says Melanie.
Today, once again, Melanie stayed calm and focused. Without fear, but with great skill and even more speed, together with her team mate Jasmin Näf she raced the Olympia run in St. Moritz at the Swiss Championships, coming in second. A fantastic result that will hopefully bring her one step closer to fulfilling her Olympic dream.